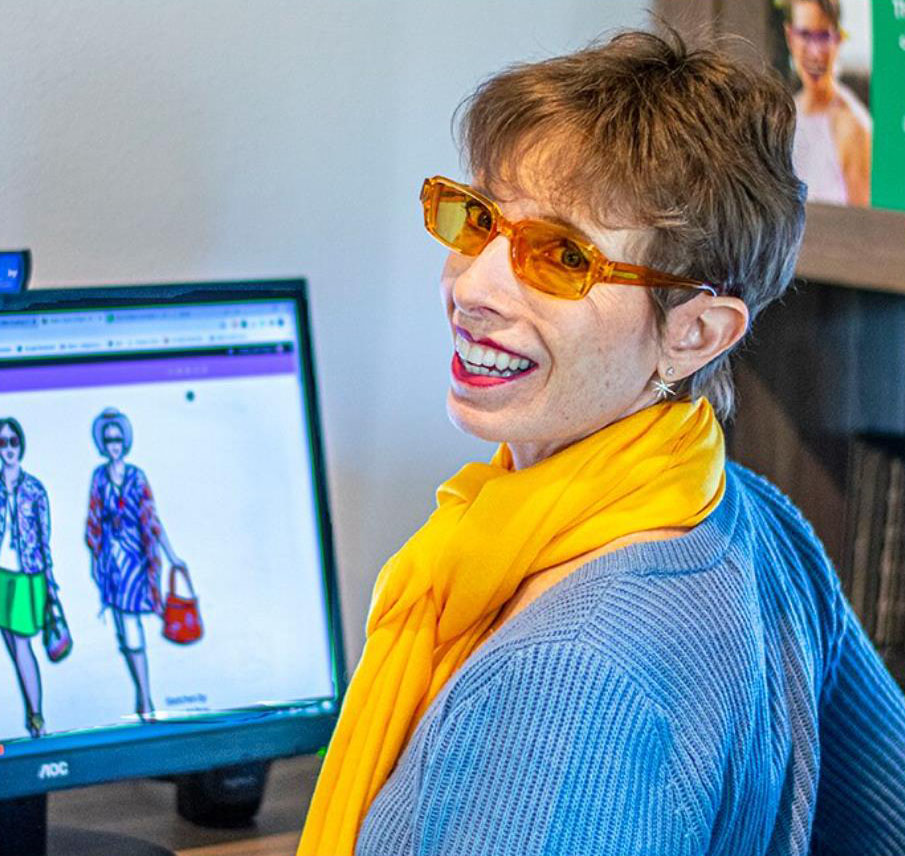 I Have This Thing With Color
Name: Jodie
Country: USA
Instagram: @jtouchofstyle
I was born in the midwest of the USA in Ohio.
After graduating from high school, I decided to go out west to Colorado for college and dental school which is where I ended up living for over 30 years. My mom decided to move out to Colorado to join me since I'm an only child. And that's where I met my husband. My husband and I lived in Denver for over 15 years before we moved to Arizona.
My biggest hobby (besides shopping) is knitting.
In fact, on most Saturdays on Instagram, I feature one of my creations. I love to knit sweaters and all things wearable. I know when I was working as a dentist, knitting was my creative outlet. It's so amazing that you can take yarn and two needles and make yourself something to wear.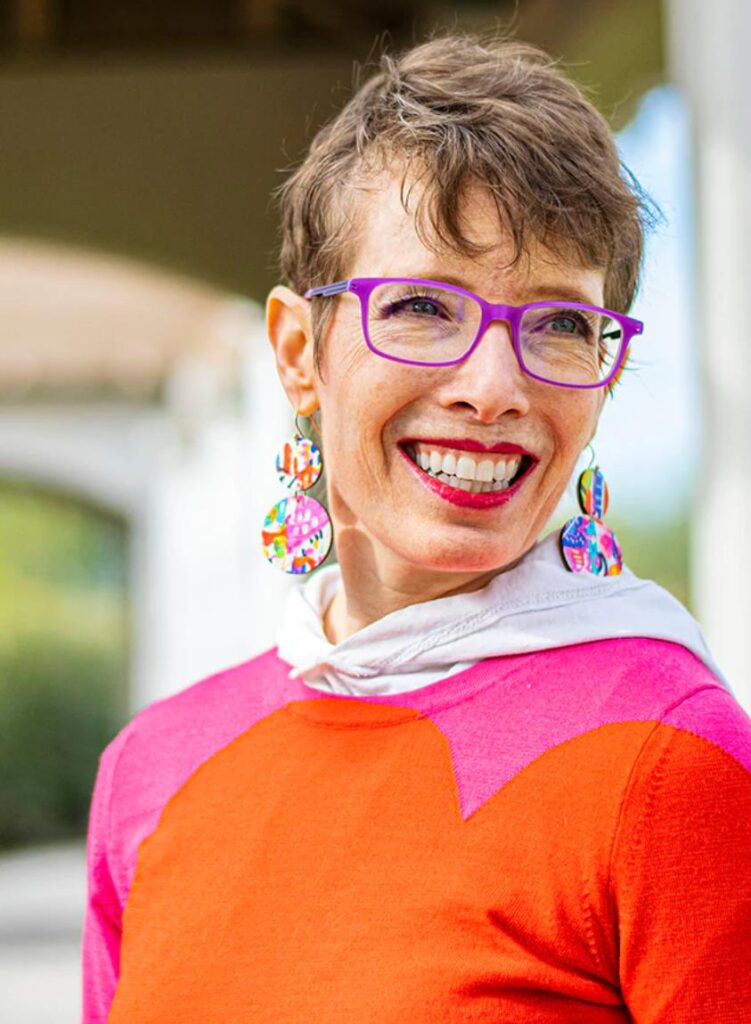 Jodie's Touch of Style
I was a retired cosmetic dentist for over 20 years and after I sold my practice, I decided to start a fashion blog with my mom and stepmom. I've always loved shopping and putting outfits together so this was an easy transition. In fact, my mother is a master seamstress and shares many of her tips and tricks on my blog. The blog is called, Jodie's Touch of Style where it's never too late to look great.
Just 2 years ago my husband, mother and I moved to Phoenix, Arizona, USA and now my third model on the blog is a good friend since my stepmom stayed in Colorado. I find it refreshing to feature 3 women of different ages, different body shapes, and different styles so that there is something for everyone.
The blog is truly a family affair since my husband is the photographer and helps us carry all of our stuff from place to place.
I pretty much run the blog and come up with ideas of what to wear for the three of us. Each week on the blog, I will have a theme and it's always so interesting how each of us will interpret it differently. Or in some cases, I like to showcase one item (like black booties), and we will all style them with something different.
"The best part of blogging has been finding new styles and companies that I would have never known about before this adventure, like VIVAIA."
In order to make our time together more fun for my mom and friend, we go exploring around our area on our photoshoot days. We have traveled up to the Grand Canyon and down to the Saguaro National Park! Other times we will go to events around town and find tours of many of the places near us. A majority of the times we are out taking photos, we also find ourselves in some of the best thrift shops and we all help each other pick out items to buy!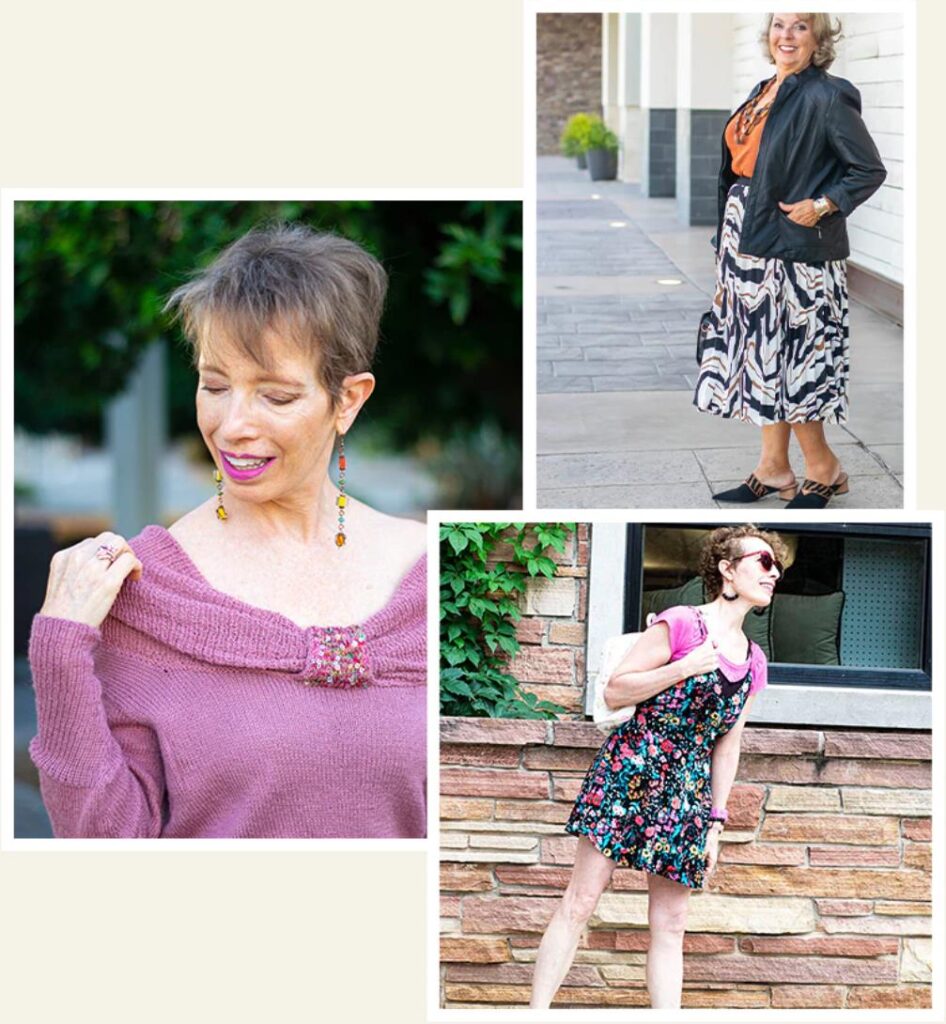 I do think I get most of my inspiration from the blogging and Instagram community. But also just going into my closet always makes me happy and gives me so many new ideas. My favorite inspiration in the past was from a baby girl at church who was wearing the best color combination of black, white, and hot pink. I put together an outfit with that color pairing as soon as I got home that same day.
My best tip for anyone is to give yourself grace and have fun!! Especially for us older women, we grew up with so many fashion rules that really don't make sense. It's been very freeing to throw those rules out the door, and try all new kinds of styles and trends. If it doesn't look good, it's no big deal because you can put together a new outfit the very next day!!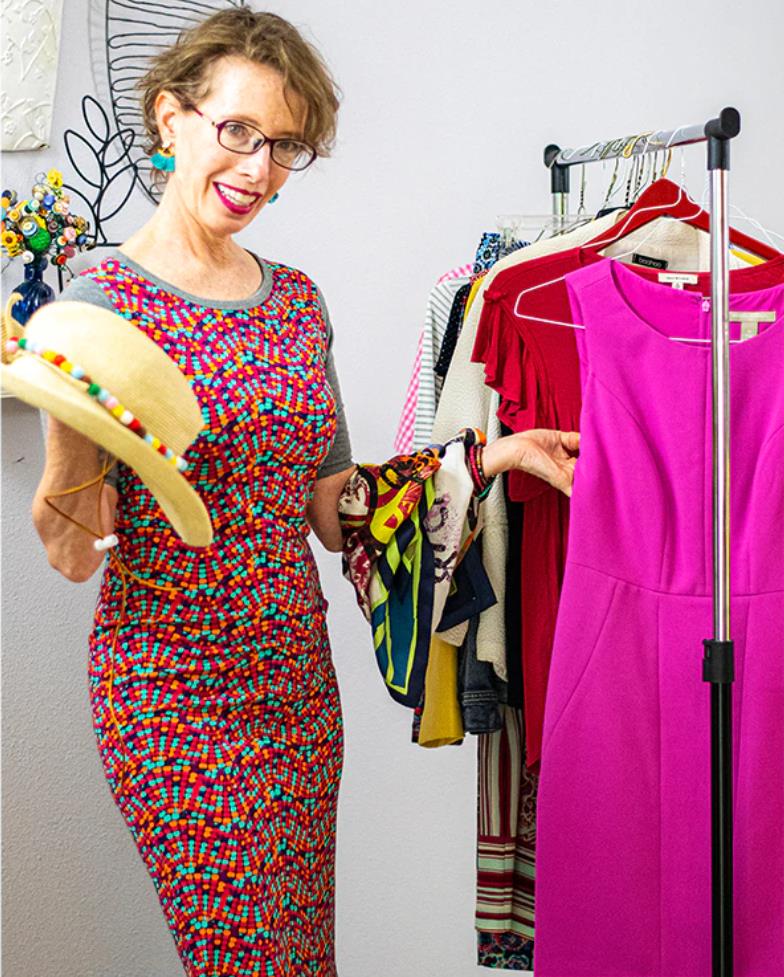 I think our closets are very underutilized. My favorite way to stretch my closet is to combine colors that I hadn't thought to combine in the past.
One secret is to stop categorizing our clothing. Too many times we think of a piece as "casual" or "work pants", yet they can be worn many ways!! And many times we can turn our clothing items either inside out or turn them around and they will look different.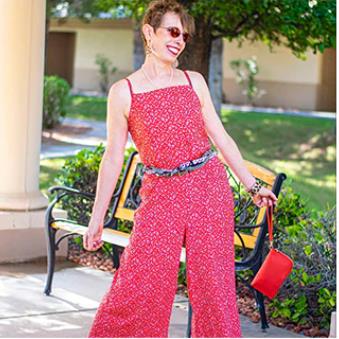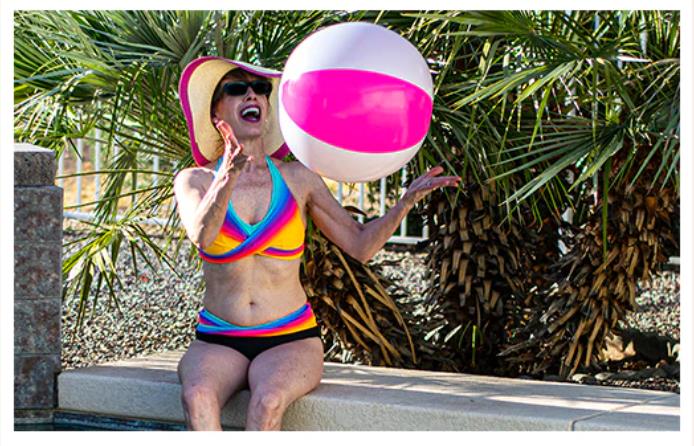 #IHaveThisThing WithColor:
Color has become such a huge part of my life now that I'm retired. There's such a psychological aspect to wearing color which makes us feel good as well as makes people around us feel good!!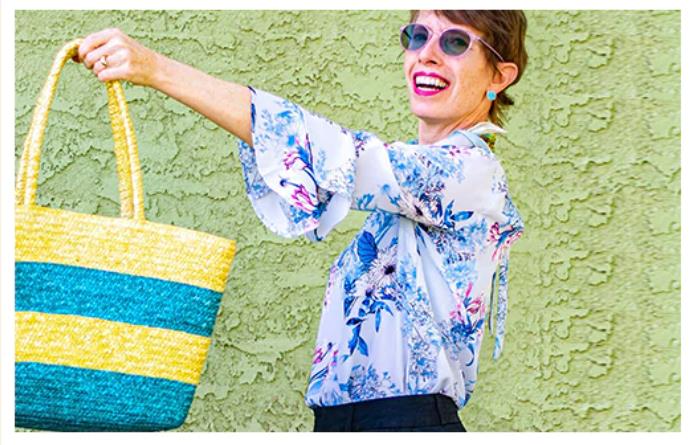 #thriftlife:
I love shopping second hand as I feel like we can give pieces a new home. Basically, I say that I'm rescuing the clothing. I find thrifting to be a treasure hunt. Some days I may not find anything, but other times I get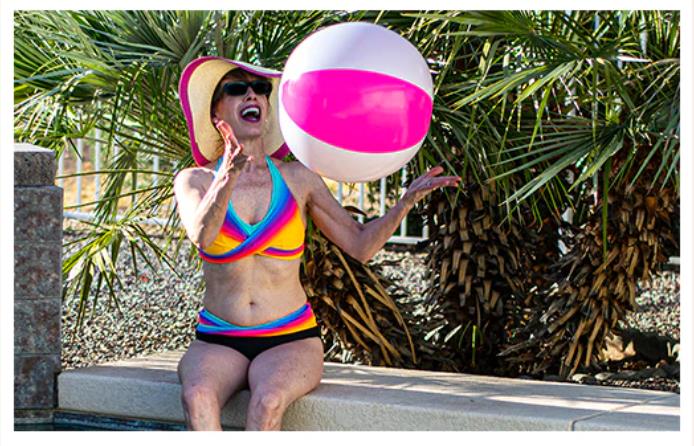 #IWillWearWhatI
Like:
I've decided that I am not here to dress to please anyone else but me! It's been the best part about getting older, and I love wearing all different kinds of styles.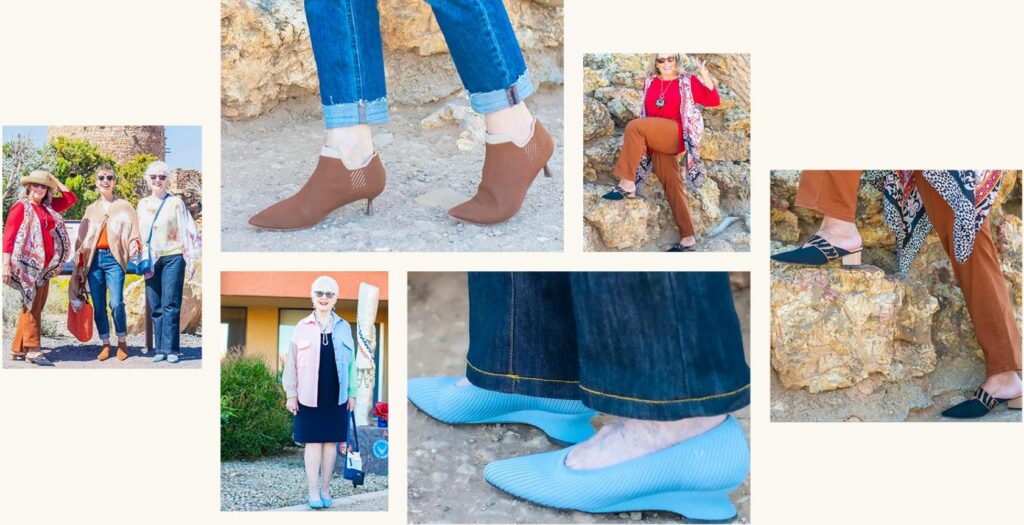 1. Back to shoes, what style of shoes do you wear daily/during travel?
I have more fun alternating with my huge collection of shoes. Some days, I love to wear heels, while other days I wear sneakers. During the winter, I'm all about any kind of boots.
2. What factors do you consider the most when purchasing shoes and why?
While I do appreciate comfortable shoes, I'm also VERY picky about fun and stylish shoes! The best part is nowadays, I can find comfort and style all in one shoe. That's one of the reasons I love VIVAIA so much.
3. What does a nice pair of shoes mean to you?
Asa fashionista, I think the best thing is when other women notice and comment on your shoes. I always like a pair that stands out and is fun!

4. If you could describe yourself as a shoe, which type of shoe would it be?
At this time of my life, I would be a bright pink pair of sexy heels with sequins on them. Give me all the sparkle and shine I can get!

5. Where have you been by wearing VIVAIA? How was il? Anything particular feels from our shoes? Just share your feelings with us. Whal's the biggest difference compared to other shoes?
I've walked along the banks of the Grand Canyon in my VIVAIA shoes. It was the perfect backdrop for our photos. Standing on the edge of one of the natural wonders of the world was appropriate in our VIVAIA shoes because they are so comfortable. And it was super easy to use a damp cloth on them afterward to clean them off from the dust and dirt!! You don't get that advantage with other shoes.
When I tell people that our shoes are made from recycled plastic bottles, they are shocked. Who knew you could recycle bottles and make them into such stylish footwear? And comfortable footwear at that.
My mom is the biggest fan ever of her pair of Liraz shoes and always gets so many compliments on them because of the unique heel.
All three of us can't get over how much we love our VIVAIA footwear. It goes to show that stylish shoes have no age limit on them!