Notice, this article is written by unsustainablemagazine.com. The original post link https://www.unsustainablemagazine.com/vivaia-shoes-review/
VIVAIA is on a mission to inspire positive change in the sartorial world; creating sustainable, eco-friendly and responsible footwear that helps consumers make conscious choices as part of a burgeoning fashion-forward movement.
Sustainable, stylish and unwaveringly responsible, VIVAIA shoes are the essence of "conscious comfort." Flawlessly marrying revolutionary technology with sustainable and ethical practice, VIVAIA creates luxurious and eco-friendly footwear that places people, and the planet, at the heart of every design.
VIVAIA is not only renowned for its iconic, minimalist styles, it also tenaciously sets the sustainable standard within the footwear industry; challenging the untenable status quo alongside appealing to a growing trend of eco-conscious shoppers.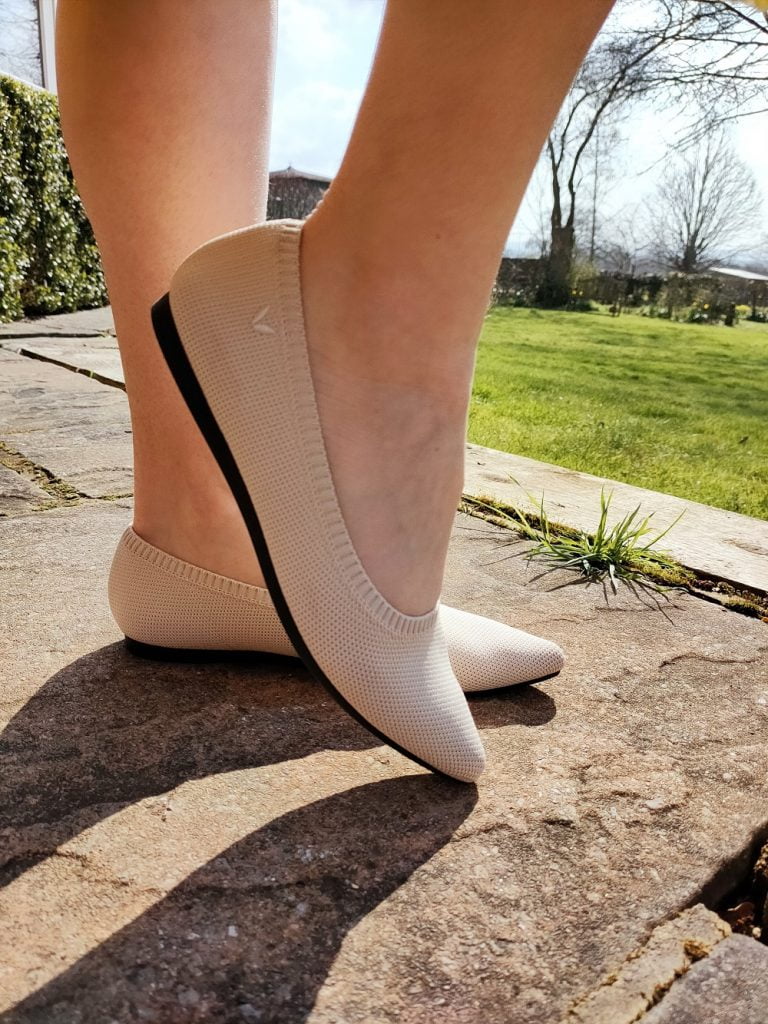 What Are VIVAIA's Shoes Made Of?
Deeply committed to addressing humanity's catastrophic waste problem, VIVAIA is "proud to be part of recycling materials for our Mother Earth" by making its shoe uppers from recycled ocean plastic, and wool (a renewable material) from sustainable sources. VIVAIA's deodorizing insoles are a mix of natural herbal and PU foam which is completely eco-friendly, and its seamless 3D knit technology creates zero-waste throughout the production process.
Where Are VIVAIA Shoes Manufactured?
With headquarters based in the United States, VIVAIA shoes are produced in Donnguan, China. Although outsourcing production to China could be seen as the direct antithesis of ethical practice, VIVAIA has chosen a factory partner based on quality, price, efficiency, environmental impact, working conditions and employee treatment. VIVAIA is very transparent about its manufacturing relationship and conducts frequent rigorous assessment to ensure safe and fair working conditions: "Based on our regular audit, we trust that our factory is in a great place of taking great care of our products and workers."
Are VIVAIA Shoes Washable?
Yes! Most of VIVAIA shoes are machine washable and quick-drying. Whether you're looking to sharpen up your work attire, take a stroll in nature or have fun on the beach, you can feel confident your VIVAIAs will be long-lasting and easy to maintain. VIVAIA even supplies handy washing bags, cleaning kits and a detailed washing guide to help make your sustainable shoe journey as simple as possible!
Is VIVAIA's Packaging Sustainable?
VIVAIA's sustainability initiatives go beyond its footwear, with all its packaging made from 100% recycled cardboard. VIVAIA avoids using artificial colourings in order to prevent toxic waste contaminating the natural environment.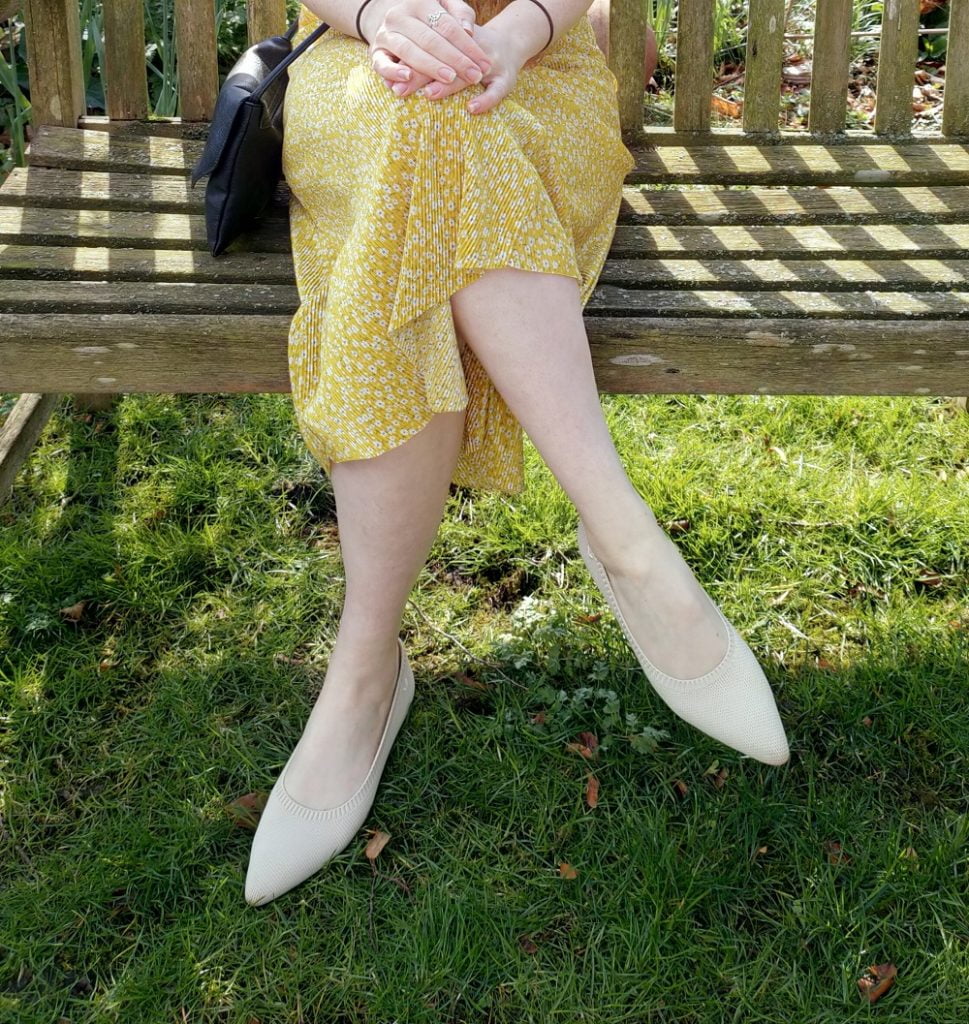 VIVAIA Shoes Review: Aria 5° 3.0 Upgrade
"Let's move from comfort to TOP COMFORT with Aria 5°"
Revered as "flats that feel like sneakers", VIVAIA's new Aria 5° is a shoe designed for creatures of comfort as well as style! Taking inspiration from VIVAIA's classic Aria 2° collection, the 3.0 upgrade boasts of impressive ergonomic design features that take care of your feet.
From a yoga mat midsole that is ultra lightweight with high rebound, right through to patented sole design that is flexible and shock absorption, the Aria 5° is guaranteed to be soft, lightweight and incredibly versatile.
Every pair has a wider toe box (as nobody likes squashed toes!), a knitted upper that stretches in 4 directions for bunion sufferers and heel padding to prevent blistering. Plus, VIVAIA's signature V-FOAM technology is a dual-layered foam support system that not only provides cushioning support but is also moisture-wicking and odor-resistant.
Unsurprisingly, the Aria 5° model is one of VIVAIA's bestsellers!
VIVAIA Shoes Reviews: What Customers Think
Granted, there are a plethora of positive customer reviews about VIVAIA shoes. From stellar customer feedback on VIVAIA's website and write-ups by notable lifestyle bloggers right through to a commendable 4.5 star rating on consumer review website TrustPilot, VIVAIA is undoubtedly a sustainable shoe brand celebrated by many.
Are VIVAIA Shoes Breathable?
VIVAIA shoes are breathable and antimicrobial, with all designs featuring an eco-friendly deodorizing insole that not only provides ultimate comfort and support, but is also moisture-wicking and mold-proof so you can feel confident your feet won't smell when it's hot and humid!
What Types of Shoes Does VIVAIA Sell?
VIVAIA creates its shoes based on slow, sophisticated and minimalist styles which can be worn on many occasions and across different seasons. VIVAIA's shoe collection includes:
Flats
Loafers
Heels
Sneakers
Sandals
Mules
Boots
Are VIVAIA Shoes Waterproof?
Although not all VIVAIA shoes are waterproof, its slip-on Bernie Sneakers are. The Bernie Sneaker is breathable, lightweight and comfortable. With a 100% waterproof upper made from recycled materials, you're guaranteed to look great whatever the weather!
What Sizes Do VIVAIA Shoes Come In?
VIVAIA offers a wide range of shoe sizes which caters to UK, US, EU and Japanese size guides.
How Much Do VIVAIA Shoes Cost?
As VIVAIA is an international brand, prices can vary depending on the country. As a baseline, a pair of VIVAIA shoes starts at USD $97 with the highest price being USD $199. VIVAIA's pricing seems to be slightly more competitive when compared to other sustainable shoes brands such as Allbirds, Baabuk and Rothy's which seem to be selling at a marginally higher price point.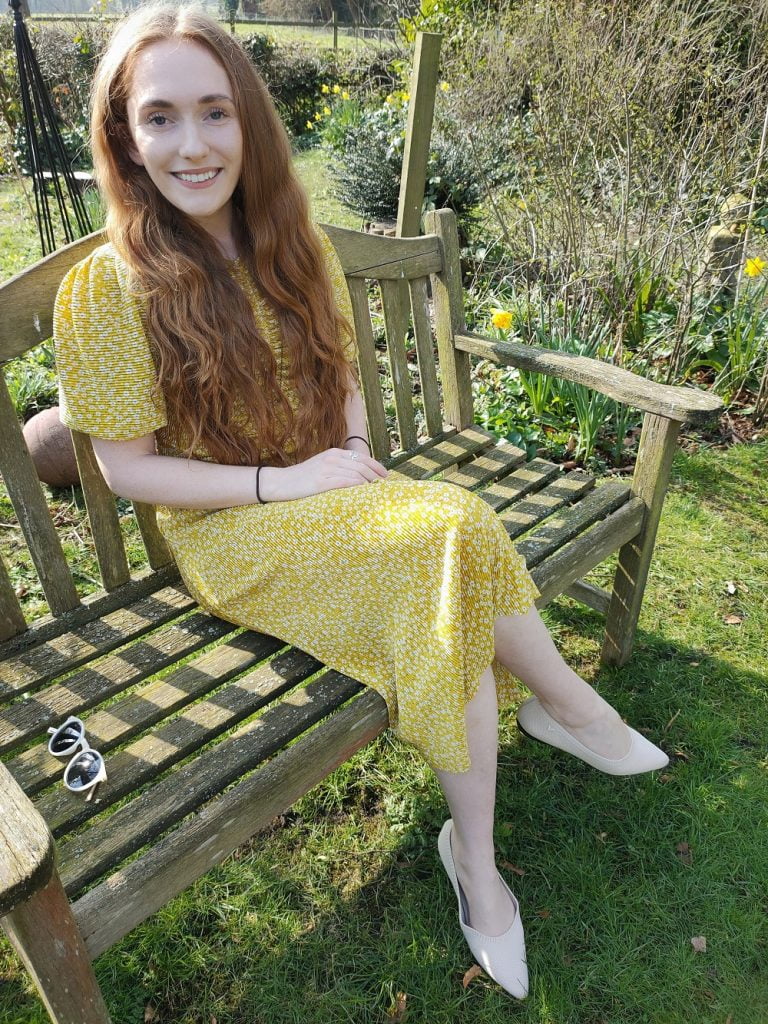 Where Can I Buy VIVAIA Shoes?
Interested in joining the fashion-forward movement? You can find VIVAIA's complete sustainable shoe collection exclusively at www.vivaia.com. VIVAIA doesn't sell its footwear through retailers which means it can create high quality, stylish footwear while maintaining a fair price for its customers. Happy sustainable shopping!
Where Does VIVAIA Ship To?
As an international brand, VIVAIA offers worldwide shipping. Check out VIVAIA's website for a handy list of shipping FAQs.
Why VIVAIA Shoes?
There are many reasons why we recommend VIVAIA as your go-to sustainable shoe brand. Masters of ergonomic design, VIVAIA creates every pair of shoes with deep consideration for people's health as well as sustainability and ethics. VIVAIA's renowned minimalist aesthetic is easy to style and can be paired with many outfits across the seasons, helping consumers make slow fashion choices at affordable prices!