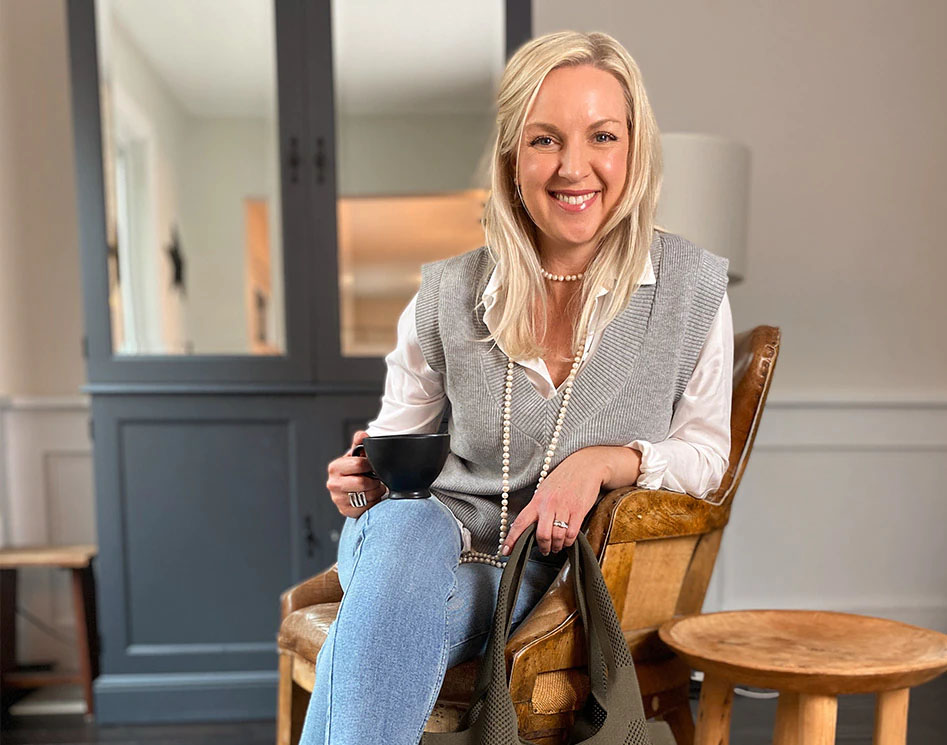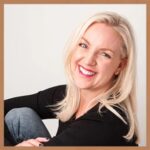 Name: Andrea
Country: Canada
Instagram: @andreathesagirl
Everyone is exactly where they should be and that there is no judgment
I was born in South Africa, and lived there all my life until we immigrated to Toronto, Canada in 2017 with our two daughters. We miss the surfing and incredible food and wine culture in Cape Town but cannot imagine our lives anywhere else but Canada — we love life here.
I come from a corporate sales background in the construction industry in Cape Town, South Africa with many years of sales experience and even worked in the fine jewelry environment at one point. Moving countries gave me the opportunity for a second chance at life—-doing things differently. I had never done yoga before and started steaming yoga on YouTube since I had no idea how I was going to run in the snow! I loved it and very quickly got invited to a yoga studio.
After a year, I began with my Yoga Teacher Training qualification. I am passionate about it. I teach hot yoga at a high end gym here in Canada and then also teach online yoga classes. I am so truly grateful for yoga, especially during Covid, it was the only thing that gave me purpose and fulfillment in such a weird time. I have a great little yoga community and our sharing and friendship means so much to all of us. Alongside my yoga teaching, I am a YouTuber and Blogger. I started my YouTube channel to help other immigrants moving to Canada with basic tips and information that they would need. Since I had been through the whole process, it was easy for me to share this with others. Over time my following has grown and have some incredible friends through all of these experiences.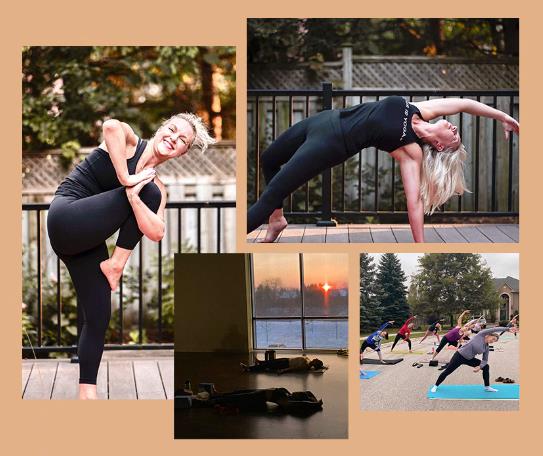 For me, shooting videos and writing blog posts keeps me busy. So yoga is what I do to relax and be energized at the same time. Teaching is not always relaxing, it is far better if you are the student! So for me, I like to cook at home and spend time with my family. We love to hang in the kitchen, listen to music and cook. My total best thing!!!
I can think of a time every year when we book a cottage at the lake somewhere in the Muskoka's here in Ontario, Canada and do nothing. I lie on the warm deck and feel the lake water licking the deck underneath me as I soak up the sun. In the distance I can hear kids swimming and laughing — it is pure bliss. I hardly touch my phone and it is so good for my soul.
I struggled in the past with scoliosis (curvature of the spine) and with consistent yoga (improving my muscle tone and building my core strength), allowed me to heal and I have never been back to a physio for this problem. It is truly amazing. There were times during my training that my body was physically so tired (I am a perfectionist and will push myself which is often to my own detriment). This would result in extreme exhaustion. I never gave up but at the time I wished I had given myself more time to recover and not push myself so hard. These things I learned and am grateful for the learning. I remember our yoga teacher teaching us how to practice the half hanuman. It was not possible for me (or not where I wanted to be). I remember the teaching for me was that everyone is exactly where they should be and that there is no judgment. After many, many months of yoga, I cannot believe how my body has changed and can easily move into these poses more comfortably. I learned that our body is a beautiful thing, and it takes time, patience and breath to see change if we treat it with love and care.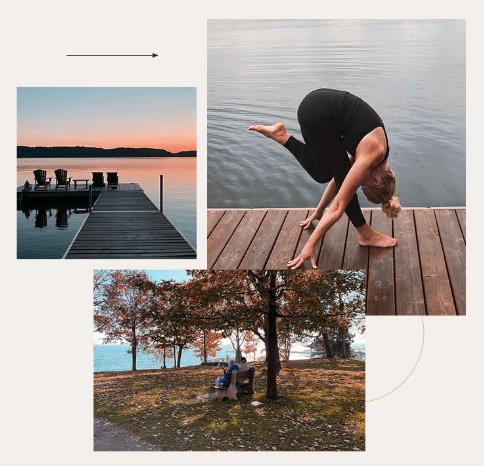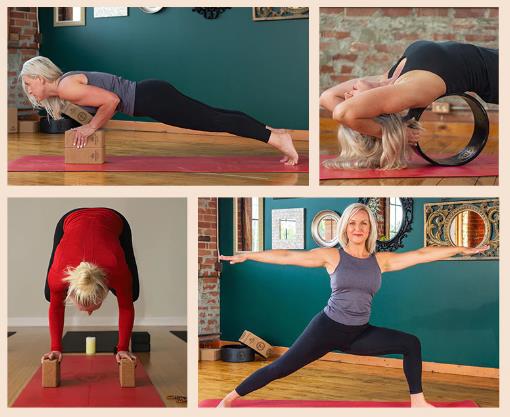 I love plank pose and crow pose. I think I love them so much because they require so much power and strength and they were the most challenging for me when I found yoga. When I managed to get into a crow pose, I remember the exhilaration and joy. To this day, it is still not easy, and if I have not practised it in a while, I battle. It is definitely a challenge. As for plank pose, I realised that if I could plank for a minute and use my breath and control my hold, it would only have benefits for my entire yoga practice since it targets many muscle groups and builds so much strength. Plank pose is so beautiful to me and one of my favourites.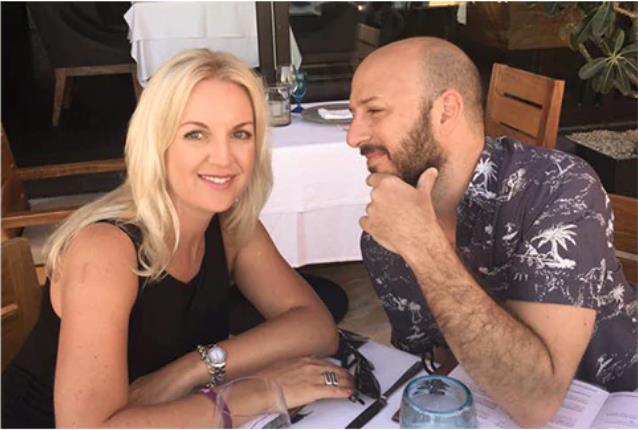 #inlove
Is my husband — he is my soulmate and I could not do life without him. We have something very special and it's truly amazing to be married to a best friend too. I saw this comment a while back which resonates with me completely: "I hope you find someone who speaks your language so you don't have to spend a lifetime translating your soul". So true.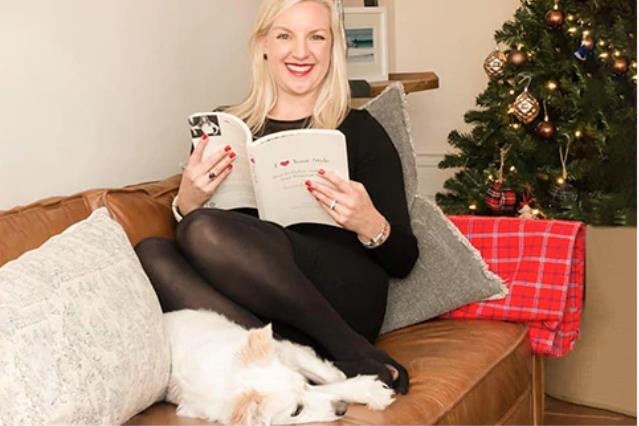 #atpeace
I have grown a lot in the last 4 years in Canada, spiritually and emotionally. Immigration does that I think. I am older too and that helps with perspective! I live a life where I am safe in Canada and not exposed to living in fear like I did many years ago. It gives me a lot of peace to live here and walk my dog alone on the trails and experience the beauty of this place. My kids have incredible opportunities here in Canada and that gives me peace too.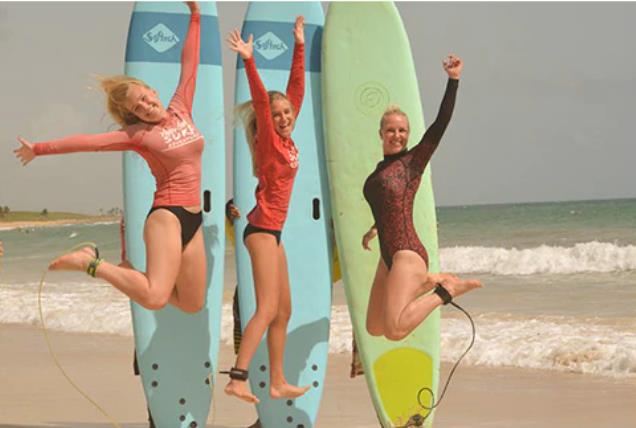 #proud
I am a very proud mother of 2 daughters. It is not easy to move your whole life to another country and take your kids away from their friends and grandparents. It is rather traumatic and as parents guilt can set in. Our girls have taken every opportunity there is to be had here in Canada and rolled with it! One is at university studying exactly what she loves and my youngest is applying now to university and the world is their oyster. This is why we came to Canada and I feel like I can check that box…it makes me so proud.
1.Back to shoes, as a yoga teacher, what style of shoes do you wear daily?
I love my trainers. I wear Nike 270's as my ultimate fav trainer ever, ever! These I wear to the gym and back. Great for comfort and style. When I am not at the gym, I actually wear my Vivaia pumps. They are super comfortable and so versatile and look so chic with whatever I wear. In winter I have a pair of ankle wellington boots that are waterproof and great for the mud and walking my dog! My snow boots are black Sorel's with black faux fur on the inside. Snow boots are a must in Canada and especially with the long winters we have here.

2.What factors do you consider the most when purchasing shoes and why?
Comfort is the most important thing right off the top! I cannot wear high heels, they hurt my feet. If my feet are sore or get blisters, it will affect my yoga. Secondly is the price point and recently since I have found Vivaia, it is amazing to find beautiful products that are sustainable.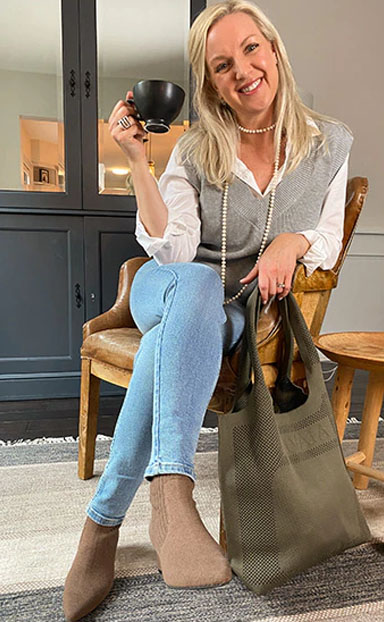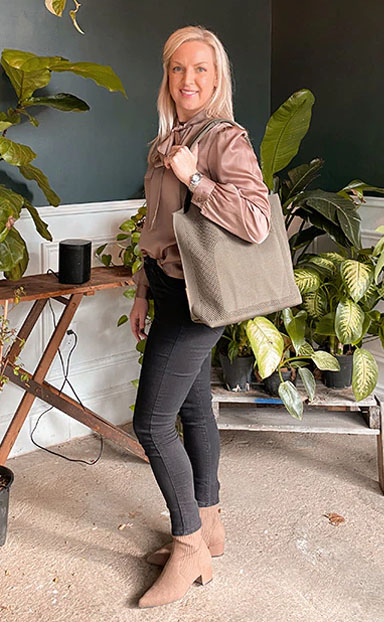 3.How's your understanding of fashion and eco-fashion?
For me fashion is expressing who you are through what you wear, how you style it and how you present yourself. Not only clothing pieces, but make-up, hair, jewellery, anything that makes you YOU! Eco-fashion is consciously using what you have or wear as your fashion/style and intentionally replacing or adding pieces that are sustainable —- upcycling, recycling — making your statement a lot more sustainable where you can.
4.What does a nice pair of shoes mean to you?
Basically I want to sleep with them on my feet and never take them off. As a little girl around the age of 4 or 5, my mother bought me a pair of slip-on wedges, they were so beautiful. She told me that she would come into my room at night and take them off my feet and put them next to my bed. I have had a thing for shoes forever!!! Funny enough, it is not common to find a great pair of shoes that are comfortable, timeless, elegant AND sustainable — which is why I am blown away by the Vivaia collection.
5.If you could describe yourself as a shoe, which type of shoe would it be?
I am an extrovert and rather bold and daring — so I think I would be a red or bright pink pair of pumps!
6.Where have you been by wearing VIVAIA? How was it?
Anything particular feels from our shoes? Just share your feelings with us. What's the biggest difference compared to other shoes? I have worn them in all my videos that I have done recently. I wore them to friends for lunch and out on the town — people love them and stare at them! They are so, so comfortable. It is like wearing a cloud. These shoes breathe well too. My feet have room somehow too, they are not too tight either. The colours are incredible and very elegant. I love that I don't wear socks with the new boots, it is revolutionary.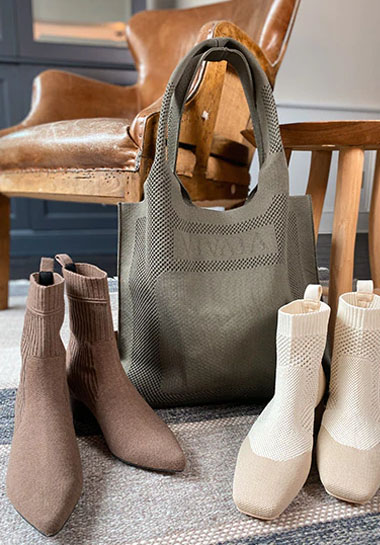 7.What are your favorite VIVAIA products?
I love my pumps so much — Vienna in Sandy Blue — all my friends want a pair too. I love the cut of the shoe. They expose the right amount of skin and are very sleek and elegant and make my foot look great. I love the point of the shoe too. My Aria 2.0 pump in Mint Gray is also a winner. This colour is exquisite. It is subdued but so gorgeous with anything — long or capri pants, skirt or dress. Truly beautiful. This is timeless and I love that I can wear these shoes for years. How could I exclude my Yedda tan russet boots!? They are the most amazing thing ever! I have never ever bought boots with a heel that are this comfortable. My best.
I recently got the Zahara tote bag in grey green and I am in love. It is the perfect size and the fabric is the same as my awesome Vivaia shoes — recycled material too! It is so elegant and works with all my clothing.