Notice, this article is written by nthelifeofgray.blogspot.com. The original post link https://nthelifeofgray.blogspot.com/2020/10/vivaia-review-stella-kitten-heel.html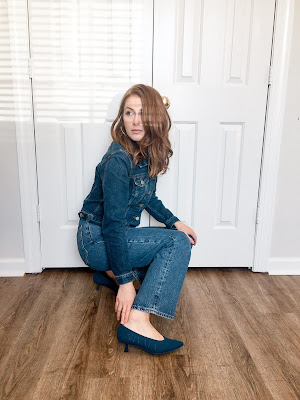 The Details:
Sizes: US 5 – US 13 – EU, FR, UK, and JPN sizing as well.
Colors: Navy, Smoke, Ebony, and Bordeaux.
Price: $119
Materials: Recycled plastic, natural latex foam insole, and carbon-free rubber.
Stella –
Link: https://www.vivaia.com/category/cat-c_404.html
"Stylish sophistication will be yours with these gorgeous kitten heel pumps. These chic heels feature a bold recycled upper crafted using water bottles alongside thread-spun knit fabric for a sleek appearance. The shortened heel adds an extra level of comfort that pairs perfectly with the lightweight natural latex foam insert for a soft feel on the foot and a stylish wear for any occasion."
– Vivaia
My Review:
FIT & STYLE –
I am typically a size US 6 and so I purchased these shoes in that size. The navy pair fits perfectly, but the smoke pair fits a little snug. I could have taken the next size up in the smoke-colored pair. The first thing I noticed when putting the shoes on, and wearing them around the house is how comfortable they are. The insole is soft and has a nice cushion feel. I like the pointed toe because it is great for short girls like me. After all, pointed-toe shoes, especially in a nude color, help you look taller. The heel height is perfect, dressing the shoe up just enough so you can go from work to play.
CONSTRUCTION & QUALITY –
This shoe is of good quality, breathable, and lightweight. A durable rubber sole made of flexible and shock-resistant carbon-free rubber is a great feature of these shoes. The signature, sustainable fabric used to make these shoes will ensure they last for years to come.
SUSTAINABILITY –
The thread used to make the fabric for these shoes comes from plastic water bottles. Vivaia only sources their plastic water bottles from suppliers and factories that meet their strict, sustainable criteria. The insoles are made from naturally sourced latex foam derived from rubber resin that meets their sustainability mission. They are machine and hand washable. The packaging is made from 90% recycled cardboard which reduces unnecessary waste.
WORTH THE PRICE? –
Yes, for the following reasons: quality, sustainability, and washing machine friendly.
WHAT I'D CHANGE –
I wouldn't change anything; these shoes are comfy, breathable, and the perfect staple for my fall/spring wardrobe.